Scythe Project in Nepal — rekindled
After a few years of dormancy, the Scythe Project in Nepal (SPIN) is making further progress. The video from the 2012 SPIN trip can be viewed here: Scythe Project in Nepal 2012 (SPIN) 
It was this SPIN video which inspired Anant Chaturvedi and his father to contact me in 2015 while I was coincidentally travelling in India promoting the use of scythes. I returned to India in 2016 joined by Sy Shotz, to do scythes demonstrations in 30 villages, arranged by the Chaturvedis. The video I made during this trip received 25 million views, and is helping to generate an increasing demand for scythes in India. The video can be viewed here: Scythe Project In India 2016
Since 2016, I've made several trips to India to consult on the scythe equipment design and procurement, and the Chaturvedis (through their company VIKALP) have put hundreds of scythes into the hands of farmers across India. The VIKALP scythes are used to harvest paddy rice, wheat, berseem clover, and other crops, with great success. The number of scythes being used in India is growing from season to season, especially since the government recognized the benefits and now promotes scythes by offering a subsidy which reduces the cost to farmers.
2017
And now, the success with scythes in India has been noticed elsewhere, and we have come full circle back to Nepal. Santosh Pandit and Ravi Chaudhary, two agricultural engineering students at a university in Nepal, selected the scythe for their graduation thesis, after they learned about SPIN from the YouTube video. While working on their project, they arranged for a scythe blade to be reproduced locally. In the process, Ravi and Santosh realized that while scythes have a great potential in Nepal, there's more to them than meets the eye. 
They reached out to me in 2017 for help and expressed an interest in continuing with the SPIN. I suggested that their best option would be to contact Anant Chaturvedi to purchase VIKALP scythes and arrange for training in Kanpur. They made a trip to India later that year, and they talk about their successful introduction to scythes in this video on VIKALP channel.
2020
I've been corresponding with Santosh and Ravi since they first contacted me. When I returned to Nepal in January 2020 to meet up with Santosh and Ravi, we also visited officials at Nepal Agricultural Research Council (NARC). NARC's plans to move forward with scythe trials in Nepal have been hampered by the Covid-19 situation.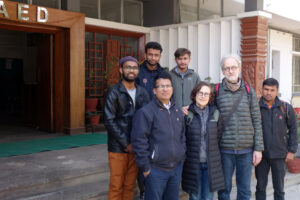 ​
Meeting with Shreemat Shrestha at NARC in January 2020
Meeting with Shreemat Shrestha at NARC in April 2012
2021
In the spring of 2021, I received two new inquiries. One from Dhorpatan and one from the Solukhumbu region in Nepal. You can read about these unique circumstances in the other posts on this website.
Santosh and Ravi obtained several scythe outfits from India, and scythes have been tested in NARC's experimental fields. The tests further confirmed the advantages of scythes for small farmers even in comparison with motorized grain cutters.
Here you can view a short video: SPIN at NARC 2021
In video below Ravi is demonstrating the use of the scythes for harvesting paddy rice:
We are all hopeful that many more farmers will be able to reap the benefits of scythes in the near future.