Description
Well shaped grips have about a 6″ adjustment range. To accommodate the mower's height the snaths come in three sizes:
59″ – approximately 1.35kg – for mowers under 5'8" – "short"
66″ – approximately 1.55kg – for mowers 5'8″ to 6'3″ – "medium"
70″ – approximately 1.65kg – for mowers over 6'3″ – "tall"
—
Snath finishing
When I'm putting the outfit together, I sand down all grips and shafts to soften any sharp corners to a smooth finish and I treat the bottom half of the shaft with a coat of boiled linseed oil cut with turpentine (50/50). This finish would work well for maintaining the entire snath and I recommend applying it once a year.
—
Assembling the snath is a very straightforward task as you can see in the pictures below.

When you're purchasing a whole outfit from Scythe Works, I fit the blade on the snath according to the mower's height. I mark with a pencil the anticipated grip positions. This should be a good starting position, but it is important to pay attention, to make sure that the outfit fits you right. Sometimes to accommodate your particular stance and mowing style you might need to adjust the grip positions.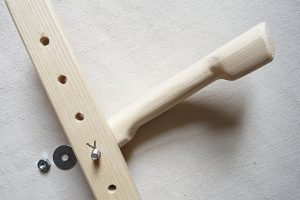 However….
For some applications — like working in the tight spaces, steep slopes, trimming road or creek banks — a typical suggested grip positions will not work very well. Lowering the grips might be more suitable for the task, and in some particular circumstances holding the snath directly by the shaft will result in a desired lay of the blade.
Attaching blade
or alternatively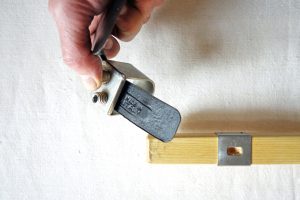 Attachment ring note
It is a good practice before mowing to make sure that the setscrews are tight. Sometimes, when mowing in damp conditions the snath will slightly expand, and then when stored in a dry place the snath will shrink. The next time you take it out, the ring is slightly loose. A setscrew might eventually loosen completely with use and be lost. It happens. Another problem with a loose ring is that the knob might be moving too much in the knob hole. In extreme cases, this can damage the snath saver, snath, and ring.
If you need to raise the edge, place the wedge between the snath and tang.
—
ScytheConnection design snaths are custom made by a Mennonite wheelwright shop in Ontario, Canada – a family-operated enterprise.