Please note
ScytheWorks is a one-man operation, part-time for most of the year. Usually, I start working on your outfit within a few days. However, the busy season is in the late spring/summer, when it can take longer before I get to the order.
I'm working on the orders in the sequence I've received them. Once the package is sent, you'll receive the tracking number.
I ask my customers to take the time to inform themselves about what they might need. There is good material posted in The Big Book of the Scythe for everyone to make tentative choices of what they might need, and then I don't mind giving feedback if necessary. 
At any point while waiting for your order, and before it is sent out, if you decide to cancel, I will refund your payment (minus any processing fees I am charged).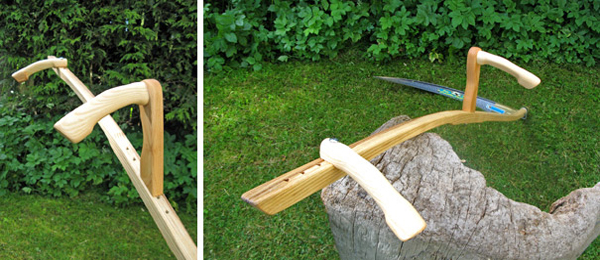 All Scythe Outfits include:
– scythe blade
– Scythe Connection design snath
– attachment ring
The snaths are adjustable and sized to the mower.
**To setup your snath properly, please include the measurement**
Outfits Descriptions
#01a-126F/65 All-Purpose Outfit
This blade is suitable for all-around applications on relatively even ground. With a lower point, it will work well for maintaining a lawn and is stiff enough to deal with some thin woody weeds. The lower point helps make a more even cut, but is not so good for uneven terrain.
01b-128L/65 All-Purpose Outfit
This outfit with a typical Italian model blade is suitable for multiple tasks like maintaining an average lawn, cutting cover crops or gathering a small amount of hay. The tang is more acutely hafted than average, which works fine when using shorter strokes for jobs like mowing in the orchard.
#01c-100R/65 All-Purpose Outfit
This well-priced outfit with a 'universal' patter blade is suitable for a wide range of general-purpose applications.  The factory edge needs peening before first use.
#01d-021/65 All-Purpose Outfit
This is a great all-around blade, with no extreme features in any direction. Not too heavy, yet plenty strong. Suitable for similar applications as the outfits above.
#02a-002/75 Field Work Outfit
This light blade with an eastern-European pattern works well for mowing in open areas. However, it is not ideal for heavy, woody, or clumpy growth, where a stiffer blade (like the Lysbro 80cm) would be a better choice.
#02b-106C/85 Field Work Outfit
Lightweight for its length, well tensioned with a curved point, made by Falci. This longer length is more efficient, but a shorter blade would be easier for the beginner.
#02c-177P/80 Field Work Outfit
An outfit suitable for an overgrown weedy fields.
#03-151S/50 Trimming Outfit
This outfit will work well for trimming jobs. However, if peened a little thicker and stiffer, this blade can also handle some tough woody stems.
#04-187A/60 Ditch Work Outfit
Tough blade for rough terrain.
#04-187/50 Brush Work Outfit
A shorter version of #187 blade, suitable for brush work, including some saplings.
#06-2001/55 Bush Outfit
If you're looking for a strong blade to tackle heavy woody growth, brambles and saplings — this is it!
All the blades listed below come with the factory-finished edges.
The 'readiness' of the edges might vary. The 'ready-to-mow' or 'triple-peened' are terms referring to edges that will require just a light touch-up, other blades will need to be properly peened before the first use. For the additional fee, I'll finish the edge. This mean, I'll clean the edge of paint and lacquer, then hand-peen and hone the edge. However, for some blades this service is unnecessary. If in doubt, please inquire.
You can also build Scythe Outfit of your choice.
I can fit any blade that you might select from this page on one of our adjustable snaths. However, if you're considering to use two blades with the same snath, please inquire to assure that the tangs on chosen blades are compatible.
Limited Stock / Old Production
All blades listed below were made in Austria in 1960s or earlier.
Some of the blades in this group are longer and heavier, and therefore are not the best fit for the ScytheConnection design snaths. A better balance can be achieved when fitting them on an offset wild-wood snath or at least on a snath with forward-facing grips. That's why I sell these blades individually and not as outfit on ScytheConnection design snaths. 
All snaths we offer are adjustable and sized to the mower.
To setup your snath properly, please include the measurement